## This is center based class, the materials will be post to you upon purchase, please come to meet us to arrange and further discuss on the classes:

New student Consultation hours:

Mon 2:30pm-10pm
Tue 2:30pm-10pm
Wed 2:30pm-10pm
Thurs 2:30pm-10pm
Fri: 9:30am-1pm
Sat 9:30am-5pm
Taman Melawati time table and fee structure:

EDU Mandarin (HQ)
307C, 3rd Floor,
Lorong Perak,
53100 Taman Melawati,
KUALA LUMPUR (Near Zoo Negara, beside the Melawati Mall)

Google map:
https://goo.gl/maps/YhaxTycwjWC2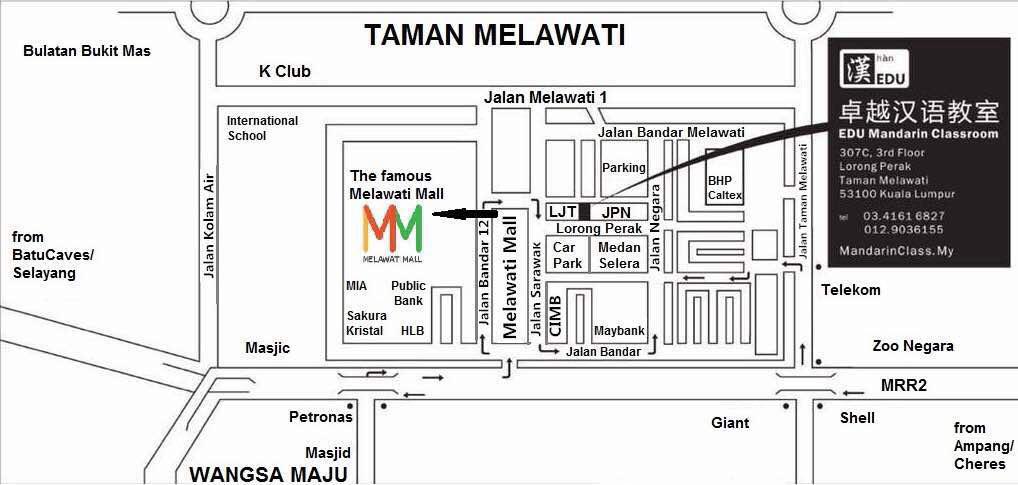 Click the link below to discuss with us through WhatsApp:
http://www.wasap.my/60166228057
Fees Structure for small group classes at Taman Melawati:
Initial payment for 4 classes per month:

1. First month fee RM160
2. Deposit RM200
3. Materials & registration RM220
Total = RM580

Note:
1. Subsequent monthly fee will be RM160 for basic package
2. This package applied for adults and children classes

RM 220 materials fees is inclusive of 6 items as below:
Materials berak down & Registration
1.GWC textbook (Great Wall Chinese) Level 1
2. GWCL1 workbook
3. HSK 1-3 Vocabruary Dictionary (Kosa Kata)
4.Odonata 100 word reading books (8 small books)
5.Big square exercise book
6.Student personal file
7. Registration fees

All together RM220
Taman Melawati group class schedules:

Mon 4:30-6pm, 8-9:30pm, 8:30pm-10pm
Tue 7-8:30pm, 8-9:30pm, 8:30-10pm
Wed 8-9:30pm, 8:30-10pm
Thurs 7-8:30pm, 8-9:30pm, 8:30-10pm
Fri 9:30am-11am, 11am-12:30pm
Sat 9:30am-11am; 11am-12:30pm, 2:30-4pm

Each class is 1.5 hours.
For Melawati center:

We adopt flexible learning system for all of our students. Even you have chosen your desired learning time slots, you are still free to swap your classes.

Each student has their personal record file, v will record down where the student stop for their last class, they will continue the syllabus at their next class.

Under this flexible system, your fee depends on the frequency of your classes.
---
Company Profile:
Mandarin Discovery Sdn Bhd. (1066400-M) was established on 16th October 2013, and registered as "PusatPerkembanganMinda" (BZ3G973) with the Education Ministry of Malaysia to run educational programs. Our head quarter is at Taman Melawati and we have branches at Petaling Jaya, Kajang, Puchong, Johor Bahru, Kota Kinabalu & Singapore.
Our headquarter is located at Taman Melawati (KL) and we do have branches/pertner centers in Petaling Jaya, Kajang, Puchong, Pandan Indah, Kota Kinabalu & Johor Bahru. We are specialized in teaching mandarin as second language for beginners, intermediate and advanced learners. We provide different services as follow:
1. Mandarin course for beginner who do not have any Mandarin language background.
2. Mandarin course for Malay students who enrolled in Chinese primary school.
3. Mandarin enhancement course for those who have limited Mandarin learning background.
4. Chinese character course for those who can speak and understand Mandarin but couldn't read Chinese character.
5. Online learning via Skype for those who wish to learn mandarin but are staying too far away from our branch.
6. HSK exam (Chinese Proficiency Exam was conducted by the China Government) services. Inclusive of trial exam, registration and per-examination consultation.
7. Sell Chinese learning materials (books and CD), exam-related book and CD and others (mandarin learning related materials)
8. To provide comprehensive range of translation and interpreting services to help businesses and individuals communicate effectively across languages and cultures.
9. To provide comprehensive agency services for foreign students who wish to pursue higher education and learning language in Malaysia. We offer a wide range of services including application assistance, academic advising, and visa application support.
Besides, all of our students will be provided with FREE UNLIMITED Flashcards after class for the online revisions and exercises purpose. All are welcomed to join us regardless of whether you have or do not have formal mandarin education background. Call us for FREE mandarin learning and teaching consultation.
# All of our courses are registered and claimable under the Human Resource Development Corp (HRD Corp) of Malaysia