## First month voucher will be post to you upon purchase, please come to meet us to arrange and further discuss on the classes:


Center address: 21A, Jalan Tun Mohd Fuad 3,
Taman Tun Dr Ismail, 60000 Kuala Lumpur.
(Walking distance from MRT Taman Tun,
Opposite the Maybank Islamic, two doors from RHB Bank)
Tip: Search "Brain Bees Mandarin" on your Waze or Google Map.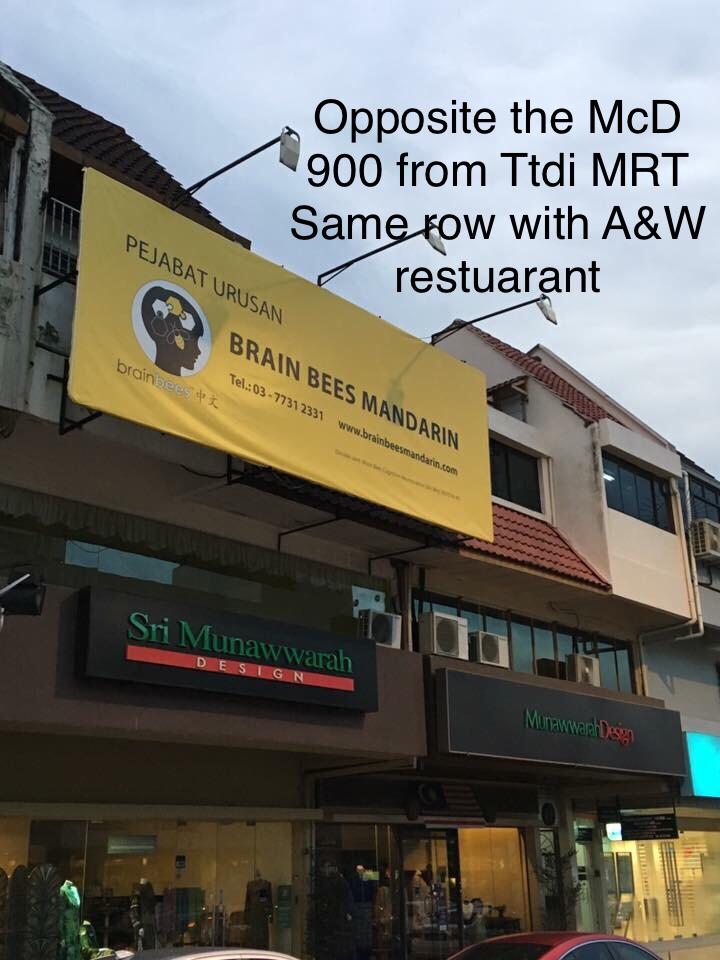 Fees Structure for small group classes at Puchong Prima:
Initial payment for 4 classes per month:

1. First month fee RM200
2. Deposit RM 200
3. Materials & registration RM220
Total = RM620

Note:
1. Subsequent monthly fee will be RM 200 for basic package
2. This package applied for adults classes

RM 220 materials fees is inclusive of 6 items as below:
Materials break down & Registration

1. GWC (Great Wall Chinese) Level 1 PPT RM25
2. GWC Level 1 workbook RM35
3. HSK 1-3 Vocabulary Dictionary (Kosa Kata) RM45
4. Odonata 100 word reading books RM48 (8 small books)
5. Big square exercise book RM1
6. Student personal file RM6
7. Registration fees RM30
8. Photostat fees (once time only) RM30

All together RM220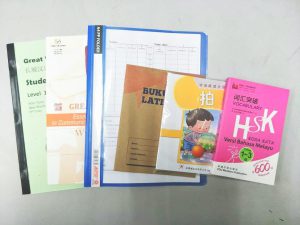 For Taman Tun center, please come to our center on the time follow:

TTDI Class schedule
Tuesday: 7pm-8:30pm, 8:00pm - 9:30pm, 8:30pm - 10:00 pm

Wednesday: 8:00pm - 9:30pm, 8:30pm - 10:00 pm

Saturday:9:00am -10:30 am, 10:30am - 12:00pm;
2:30pm-4pm (3 slots)
We adopt flexible learning system for all of our students. Even you have chosen your desired learning time slots, you are still free to swap your classes.

Each student has their personal record file, v will record down where the student stop for their last class, they will continue the syllabus at their next class.

Under this flexible system, your fee depends on the frequency of your classes.
---
Company Profile:
Mandarin Discovery Sdn Bhd. (1066400-M) was established on 16th October 2013, and registered as "Pusat Perkembangan Minda" (BZ3G973) with the Education Ministry of Malaysia to run educational programs. Our head quarter is at Taman Melawati and we have branches at Petaling Jaya, Kajang, Puchong and TTDI.
We are specialized in teaching mandarin as second language for beginners, intermediate and advanced learners. The services provided by us are as below:
1. Mandarin as second language courses for beginners without any background of Mandarin language.
2. Mandarin courses for Malay students enrolled in Chinese primary school.
3. Mandarin courses for those with limited Mandarin background.
4. Chinese character courses for those who can speak and understand Mandarin but unable to read Chinese characters.
5. Online learning via Skype.